Erratum to: Cytokeratin7 and cytokeratin19 expression in high grade cervical intraepithelial neoplasm and squamous cell carcinoma and their possible association in cervical carcinogenesis
Diagnostic Pathology
2017
12:40
The original version of this article [
1
] unfortunately contained incorrect figure files. Figures
4
and
7
in main body which have been replaced with new version of these figures. The corrected Figures include 3 added HE (a,b,c) and total 15 (a-o) figures, each.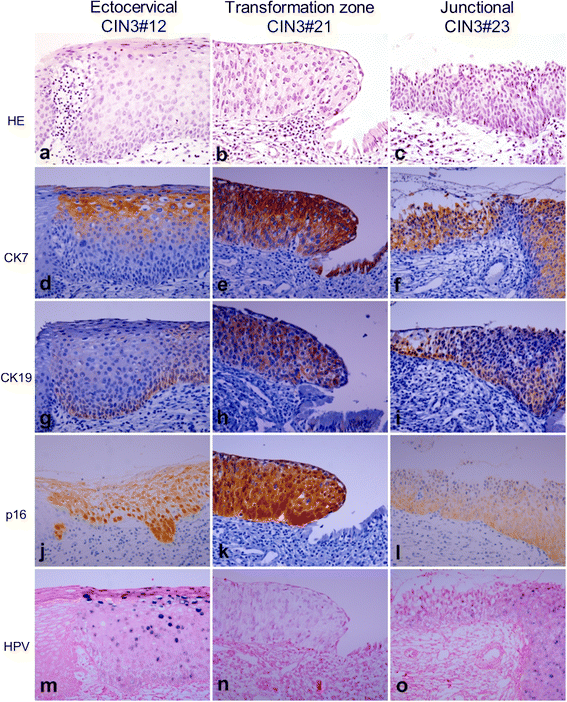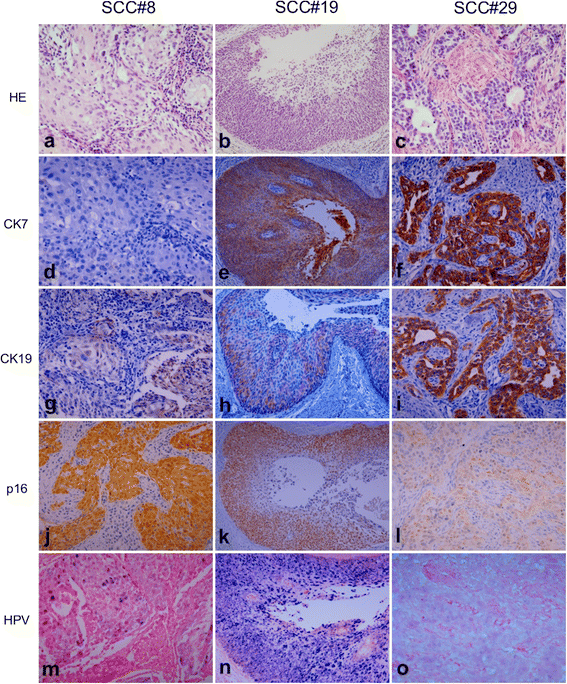 The new version of these files are included below.
Furthermore, Additional File 1 has been updated to remove Fig. 3 and 6 which have already been included in the main body of the article. The original version of this article has been updated to reflect the above changes.
Open AccessThis article is distributed under the terms of the Creative Commons Attribution 4.0 International License (http://creativecommons.org/licenses/by/4.0/), which permits unrestricted use, distribution, and reproduction in any medium, provided you give appropriate credit to the original author(s) and the source, provide a link to the Creative Commons license, and indicate if changes were made. The Creative Commons Public Domain Dedication waiver (http://creativecommons.org/publicdomain/zero/1.0/) applies to the data made available in this article, unless otherwise stated.
(1)
Department of Pathology, Nowon Eulji Medical Center, Eulji University, 280-1 Hagye 1-dong, Nowon-gu, Seoul, 139-711, Korea
(2)
Department of Pathology, Daejeon Eulji Medical Center, Eulji University, 95 Dunsanseo-ro, Seo-gu, Daejeon, 35233, Korea
(3)
Department of Internal Medicine, Division of Infectious Diseases, Gachon University Gil Medical Center, 1198 Guwol-dong, Namdong-gu, Incheon, 405-760, Korea
Lee et al. Diagnostic Pathology (2017) 12:18. Cytokeratin7 and cytokeratin19 expression in high grade cervical intraepithelial neoplasm and squamous cell carcinoma and their possible association in cervical carcinogenesis. doi:10.1186/s13000-017-0609-4Google Scholar