Prostate carcinoma metastatic to the skin as an extrammamary Paget's disease
Diagnostic Pathology
2012
7:106
Received: 8 June 2012
Accepted: 31 July 2012
Published: 18 August 2012
Abstract
Aim
The current paper describes a case of prostatic adenocarcinoma metastatic to the skin presenting as an extrammamary Paget's disease, a very rare and poorly characterised morphological entity. We report a case of prostatic carcinoma metastatic to skin showing a pattern of extramammary Paget's disease which has not been clearly illustrated in the literature Case presentation: A 63 year-old man with prostatic adenocarcinoma developed cutaneous metastases after 16 years. The inguinal metastases were sessile and 'keratotic.' The tumour displayed solid, glandular areas as well as a polypoid region suggestive of extramammary Paget's disease were identified.
Discussion and conclusions
We review the diagnostic criteria that have led to the correct histopathological diagnosis in this case. A differential diagnosis of the pagetoid spread in the skin and various forms of cutaneous metastases determined by a prostatic adenocarcinoma as well as the role of immunohistochemistry in establishing the prostatic origin are presented in the context of this case. Although, morphologically the cells presented in the skin deposits were not characteristic for adenocarcinoma of prostate, immunohistochemistry for PSA and PSAP suggested a prostatic origin.
Keywords
Prostatic Adenocarcinoma
Cutaneous Metastasis
Skin Metastasis
Express Estrogen Receptor
Glandular Area
Introduction
Prostate adenocarcinoma is one of the most common cancers in Australia. The Melbourne Collaborative Cohort Study revealed that 8.4% of the subjects enrolled in the study developed over 15 years prostatic adenocarcinoma and more than 10% of these patients died[1]. While some long-term survivors develop an indolent disease without dissemination others develop early or even late metastases. Secondary deposits associated with prostatic adenocarcinoma are located with predilection in the bone system while skin metastasis represents an exceptional event[2]. Evaluation of these skin lesions should always include a thorough clinical examination, past history and histopathological evaluation. In some patients the history of prostatic adenocarcinoma is absent and in others the histology is not characteristic for a prostatic origin or the patients might have had cancers with various origins. In these cases, immunohistochemistry is an invaluable tool, the most commonly used markers being prostate-specific antigen (PSA) and prostate acid phosphatase (PSAP)[3]. Skin metastasis determined by a prostate adenocarcinoma may display a variety of patterns including the extrammamary Paget's disease. However, at the present time, we do not understand the implication of this morphology for the aggressiveness of the primary cancer and the general outlook of the patient.
Case report
Initially, a 63 year-old male was diagnosed with locally metastatic prostatic adenocarcinoma, moderately differentiated, Gleason score 3 + 3 = 6 (T3NxM0). However, no prostatectomy was performed after the initial clinical diagnosis. Subsequently, the patient elected to receive radiation therapy and long-term flutamide. A bone scan performed after eight years revealed no proliferative lesions. However, at 16 years after the initial diagnosis he was admitted to dermatology clinic with an eruption of multiple tan keratotic polypoidal lesions located on his scalp, abdomen and bilateral groin areas. Bilateral inguinal lymphadenopathy was also noted. Clinical and radiological evaluation revealed an irregularly enlarged prostate. The MRI showed abdominal lympadenopathy. Several atypical areas were detected in bone pelvis but a clear diagnosis of bone metastasis was not possible. However, no other masses were detected elsewhere. Immediately prior to his anatomo-pathological evaluation, the patient developed macroscopic haematuria, overflow urinary incontinence and renal failure with increased creatinine. The general status of the patient did not allow a prostatic biopsy and the patient was transferred for palliative care and expired after three weeks. However, during his hospital stay the PSA level increased from 24.3 ng/ml to 46.3 ng/ml. A skin biopsy of a fibroepithelial-like lesion located in the right lower abdominal quadrant (inguinal area) was performed a diagnosis of skin metastasis was made. Histopathological evaluation of this lesion revealed several patterns of metastatic prostatic adenocarcinoma. The dominant feature was represented by solid and glandular areas. In addition, large areas of hyperplastic epidermis revealed clear tumour cells suggestive of extramammary Paget's disease (EMPD) (Figure 
1
; Figure 
2
).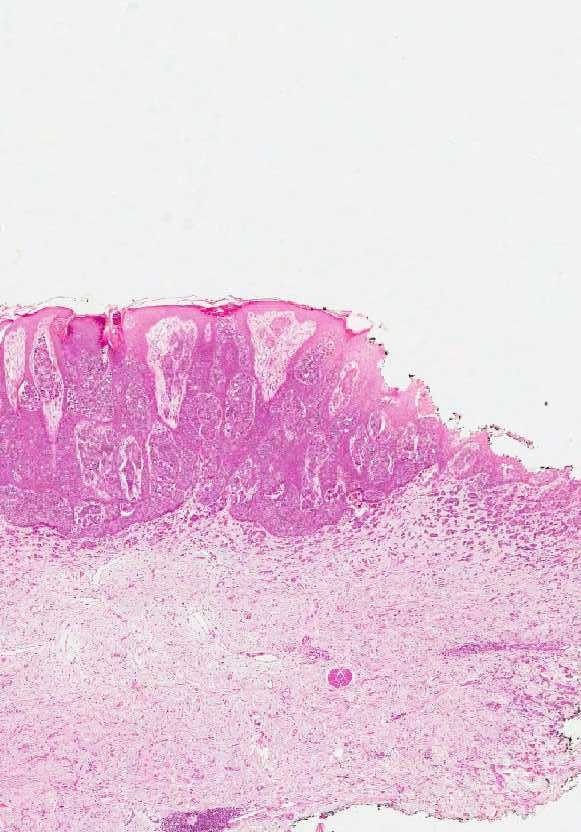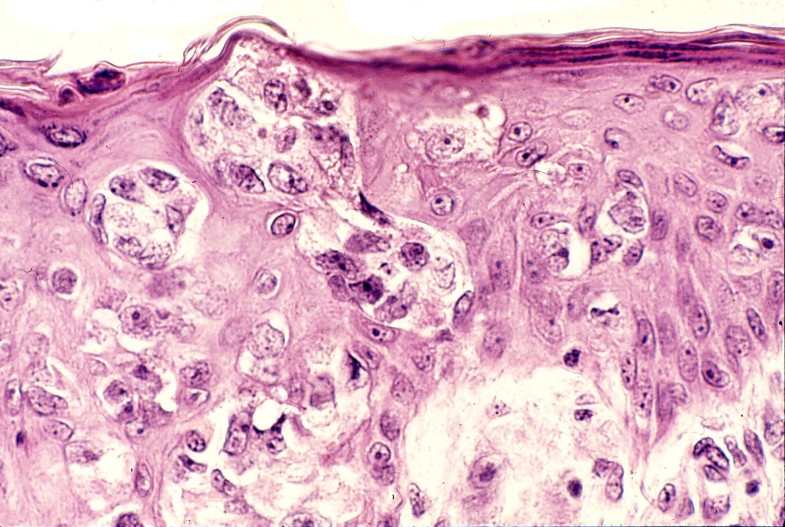 Conclusion
We present a rare pattern of prostatic adenocarcinoma metastatic to the skin. Immunohistochemistry for PSA and PSAP along with clinical and radiological examination and personal history were corroborated for the final diagnosis. For the histo/dermatopathologist it is important to recognize the plethora of various patterns displayed by cutaneous metastases of a prostatic adenocarcinoma. Last but not least, we should be aware that the PSA/PSAP might not be helpful in confirming the diagnosis if the skin lesion represents the extension of a poorly differentiated prostatic adenocarcinoma and other markers and/or methods need to be employed.
Authors' Affiliations
(1)
Griffith University School of Medicine, Gold Coast Campus, Griffith University, Southport, Australia
(2)
Department of Pathology, Winchester Hospital, Winchester, USA
(3)
Department of Pathology, Gold Coast University Hospital, Southport, Australia
(4)
Manchester Metropolitan University, Angiogenesis and Vascular Biology Group, Manchester, UK
(5)
Department of Anatomy and Doctoral School, University of Medicine and Pharmacy Targu Mures, Targu Mures, Romania
Copyright
© Petcu et al.; licensee BioMed Central Ltd. 2012
This article is published under license to BioMed Central Ltd. This is an Open Access article distributed under the terms of the Creative Commons Attribution License (http://creativecommons.org/licenses/by/2.0), which permits unrestricted use, distribution, and reproduction in any medium, provided the original work is properly cited.