Antinuclear antibodies and their detection methods in diagnosis of connective tissue diseases: a journey revisited
Diagnostic Pathology
2009
4:1
Received: 21 October 2008
Accepted: 02 January 2009
Published: 02 January 2009
Abstract
It has been more than 50 years since antinuclear antibodies were first discovered and found to be associated with connective tissue diseases. Since then different methods have been described and used for their detection or confirmation. For many decades immunofluorescent antinuclear antibody test has been the "gold standard" in the diagnosis of these disorders. However to increase the sensitivity and specificity of antinuclear antibody detection further approaches were explored. Today a battery of newer techniques are available some of which are now considered better and are competing with the older methods. This article provides an overview on advancement in antinuclear antibody detection methods, their future prospects, advantages, disadvantages and guidelines for use of these tests.
Keywords
Systemic Lupus Erythematosus
Connective Tissue Disease
Laryngeal Squamous Cell Carcinoma
Extractable Nuclear Antigen
Bead Suspension
Review
Connective tissue diseases (CTD) are a group of autoimmune disorders which are characterized by presence of antinuclear antibodies (ANA) in the blood of patients. ANA are a specific class of autoantibodies that have the capability of binding and destroying certain structures within the nucleus of the cells [1]. Although lower amounts of these antibodies can be seen in the normal population as well, a spurt in titers is seen in patients of CTD. Not only are these antibodies involved in the disease pathogenesis, but they also constitute the basis for diagnosis and treatment of CTD. Their detection with high sensitivity and specificity is therefore of utmost importance. Various detection methods are in use and there is continuous pouring of newer techniques to facilitate diagnosis and therapeutic monitoring in CTD patients. In this review we have discussed in brief how ANA were discovered and found to be associated with CTD. This article also gives an overview on advancement in various ANA detection methods, their future prospects along with advantages, disadvantages and guidelines for use of these tests.
Historical aspects of ANA
In 1941, Klemperer, Pollack and Baehr first described systemic lupus erythematosus (SLE) as one of the CTD [2]. Then in 1948 Malcom Hargrave, Helen Richmond and the medical resident Robert Morton noted the presence of previously unknown cells in the bone marrow of a patient with SLE. They called these LE cells and described them as mature polymorphonuclear leukocytes which had phagocytosed the liberated nuclear material of another leukocyte [3]. This extremely important discovery laid the foundation of research for ANA. Since then, ANA has been divided into specific subtypes based on the nuclear or cytoplasmic component they attack i.e. anti-DNA, anti-histone etc.
ANA – the two broad subtypes
Presently the ANA have been categorized in to 2 main groups:
Autoantibodies to DNA and histones
These include antibodies against single and double-stranded DNA (dsDNA) discovered way back in 1957. Significant levels of anti-dsDNA antibodies are considered to be confirmatory in diagnosis of SLE. This was followed by detection of anti-histone antibodies in 1971 which are indicative of drug-induced SLE [4–8].
Autoantibodies to extractable nuclear antigens (ENA)
Besides DNA and histones, autoantibodies may also target other nuclear antigens. These nuclear antigens were named ENA as originally they were extracted from the nuclei with saline [
8
]. Autoantibody to Smith antigen (Sm) which is considered to be specific for SLE was the first anti-ENA detected in 1966 [
9
]. Thereafter further subtypes of ENA i.e. ribonucleoproteins (RNP), SSA/Ro, or SSB/La, Scl-70, Jo-1 and PM1 were more clearly identified [
10
–
17
]. Although most of these ENA are disease specific, still a significant overlap exists. The sensitivity and specificity also varies depending upon the type of underlying CTD. A list of clinically important ANA with their sensitivity and specificity of identifying an autoimmune disorder can be seen in table
1
[
18
,
19
].
| Autoantibodies | Associated CTD | Sensitivity | Specificity |
| --- | --- | --- | --- |
| ANA | SLE | 93 | 57 |
| | Sjogren's syndrome | 48 | 52 |
| | SS | 85 | 54 |
| | PM/dermatomyositis | 61 | 63 |
| | Raynaud phenomena | 64 | 41 |
| Specific ANA | | | |
| Anti-dsDNA | SLE | 57 | 97 |
| Anti-Sm | SLE | 25–30 | High* |
| Anti-SSA/Ro | Sjogren's syndrome, subacute cutaneous SLE, Neonatal lupus syndrome | 8–70 | 87 |
| Anti-SSB/La | Sjogren's syndrome, subacute cutaneous SLE, Neonatal lupus syndrome | 16–40 | 94 |
| Anti-U3-RNP | SS | 12 | 96 |
| Anticentromere | Limited cutaneous SS | 65 | 99.9 |
| Scl-70 | SS | 20 | 100 |
| Jo-1 | PM | 30 | 95 |
In the last few years many other autoantibodies like topoisomerase-I (Topo-I), centromere protein (CENP)-B, RNA-polymerase I-III (RNA-pol I-III), MU, TM, Ku, Mi-2, RA33 etc. have also been described. While of scientific interest, typing of many of these antibodies has not found its way in to the clinical practice. Certain autoantibodies against cytoplasmic and cell membrane components though present are less relevant in diagnostics [20, 21].
Techniques for ANA detection
Presence of autoantibodies in the sera of the patient constitutes one of the criteria used for diagnosis of CTD (table
2
). Besides clinical diagnosis the ANA subtyping also helps in identifying a specific CTD [
22
]. Although a battery of laboratory tests are available for ANA detection indirect immunofluorescence antinuclear antibody test (IF-ANA) and enzyme immunoassay (EIA)/enzyme linked immunosorbent assay (ELISA) are commonly used in day to day practice. Some of them are considered outdated while others like flowcytometry and recently introduced nanotechnology involving antigen arrays are still in experimental stages.
Table 2
Significance of positive ANA test in CTD and some non-autoimmune conditions [36]
| Useful for diagnosis | Useful for monitoring or prognosis |
| --- | --- |
| 1) Lupus erythmatosus (LE) | 1) Juvenile chronic oligoarticular arthritis |
| SLE | 2) Raynaud phenomenon |
| Discoid LE | Not useful for diagnosis |
| Subacute cutaneous LE | |
| Neonatal LE | 1) Relatives of patients with CTD |
| Overlap of two or more LE subsets | 2) Other autoimmune diseases (e.g., Rheumatoid arthritis, Idiopathic thrombocytopenia purpura, primary biliary cirrhosis, autoimmune thyroiditis) |
| Overlap of LE with other CTD | 3) Drugs (e.g., procainamide, hydralazine) |
| 2) SS | 4) Silicone breast implant patients |
| Cutaneous SS (morphea) | 5) Fibromyalgia |
| Systemic SS | 6) Chronic infections |
| a) Limited disease | 7) Neoplasms |
| b) Diffuse disease | 8) Elderly persons |
| 3) PM/Dermatomyositis | 9) Pregnant women |
| 4) Sjögren's syndrome (primary and secondary) | 10) Healthy persons |
| 5) Mixed CTD | |
| 6) Overlap and undifferentiated CTD | |
Guidelines for detection of ANA
A positive ANA result in conjunction with clinical findings is diagnostic therefore frequently asked by the clinician in case of suspected CTD. Since different ANA are associated with one or other CTD a systematic approach has to be followed while performing these tests. Therefore initially screening is carried out usually by IF-ANA/ELISA and if positive more specific tests are performed based on clinical findings and IF-ANA staining patterns (table 3).
Autoantibody to dsDNA is specific and diagnostic for SLE and levels are elevated during active disease. Therefore in a case of suspected SLE if homogenous pattern is observed on IF-ANA further tests i.e. CLIF, ELISA, blotting tests etc. may be done to confirm dsDNA. Similarly anti-Sm is highly specific for SLE and needs confirmation by other tests i.e. Blotting etc. but is present in only 10% of SLE cases.
Anti-SSA/Ro antibody although more common in Sjogren's syndrome but can also be found in 30% cases of SLE with cutaneous involvement. Therefore if IF-ANA shows speckled/peripheral pattern further tests i.e. Blotting, MIA are required for detection of anti-SSA/Ro antibody. Clinical significance and detection methods for anti-SSB/La are similar to that for anti-SSA/Ro except that it is less common and may indicate minor course of disease. While presence of these two autoantibodies supports Sjogren's syndrome they are not much needed for diagnosis. Anti-Scl-70 autoantibody found in scleroderma (SS) gives a fine speckled staining pattern on IF-ANA and can be confirmed by immunodiffusion techniques but its detection is also not a necessity for diagnosis.
Antinucleolar antibodies are a group of autoantibodies which give nucleolar staining pattern. Most common of these are anti-PM-Scl, anti-RNA polymerase I-III and anti-U3-RNP (antifibrillarin). Although seen in scleroderma and polymyositis (PM) their detection is also not widely practiced [24].
A protocol generally followed by the clinicians and step by step approach to detect all these autoantibodies has been described in figure
2
. A summary of certain other guidelines [
24
,
61
] to be considered are: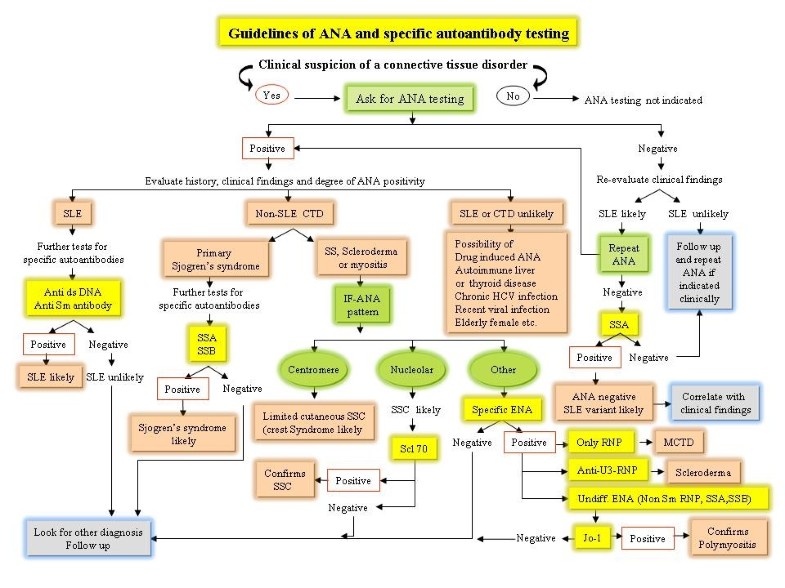 – ANA testing is not helpful in confirming a diagnosis of rheumatoid arthritis or osteoarthritis therefore should not be used in such conditions.
– ANA testing is not recommended to evaluate fatigue, back pain or other musculoskeletal pain unless accompanied by one or more of the clinical features in favor of a CTD.
– ANA testing should usually be ordered only once.
– Positive ANA tests do not need to be repeated.
– Negative tests need to be repeated only if there is a strong suspicion of an evolving CTD or a change in the patient's illness suggesting the diagnosis should be revised.
– A positive ANA test is important only in conjunction with clinical evaluation and in the absence of symptoms and signs of a CTD; a positive ANA test only confounds the diagnosis. A positive ANA test can also be seen in healthy individuals, particularly the elderly or in a wide range of diseases other than CTD, where it has no diagnostic or prognostic value.
Recommendations in the guidelines may further evolve over time, as newer analytic methods and additional clinical research yield important results.
In future!
The future for ANA detection looks very promising. We have come a long way from the simplest test like LE cell method to fully automated ELISAs to nanotechnology. Future development will undoubtedly include more sophisticated instrumentation with ultra sensitive detection, faster turnaround time, and increased throughput in ANA detection. Advances in the new technologies like multiplex immunoassays and antigen microarrays offer an attractive alternative to traditional ELISA, immunoblot, and IFA techniques. Rapid development in the area of quantum dots and other fluorescent nanoparticles will also eventually benefit routine clinical laboratory analysis.
Authors' Affiliations
(1)
Department of Pathology and Laboratory Medicine, Grecian Superspeciality, Heart, Cancer and Multispeciality Hospital, Mohali, India
(2)
Department of Experimental Medicine and Biotechnology, Post Graduate Institute of Medial Education and Research, Chandigarh, India
(3)
Department of Immunopathology, Post Graduate Institute of Medial Education and Research, Chandigarh, India
Copyright
© Kumar et al; licensee BioMed Central Ltd. 2009
This article is published under license to BioMed Central Ltd. This is an Open Access article distributed under the terms of the Creative Commons Attribution License (http://creativecommons.org/licenses/by/2.0), which permits unrestricted use, distribution, and reproduction in any medium, provided the original work is properly cited.