Different approaches for interpretation and reporting of immunohistochemistry analysis results in the bone tissue – a review
Diagnostic Pathology
2014
9:221
Received: 17 September 2014
Accepted: 10 November 2014
Published: 29 November 2014
Abstract
Background
Immunohistochemistry (IHC) is a well-established, widely accepted method in both clinical and experimental parts of medical science. It allows receiving valuable information about any process in any tissue, and especially in bone. Each year the amount of data, received by IHC, grows in geometric progression. But the lack of standardization, especially on the post-analytical stage (interpreting and reporting of results), makes the comparison of the results of different studies impossible.
Methods
Comprehensive PubMED literature search with a combination of search words "immunohistochemistry" and "scoring system" was performed and 773 articles describing IHC results were identified. After further manual analysis 120 articles were selected for detailed evaluation of used approaches.
Results
Six major approaches to the interpretation and presentation of IHC analysis results were identified, analyzed and described.
Conclusions
The overview of the existing approaches in evaluation and interpretation of IHC data, which are provided in the article, can be used in bone tissue research and for either better understanding of existing scoring systems or developing a new one. Standard multiparametric, semiquantitative IHC scoring systems should simplify and clarify the process of interpretation and reporting of received data.
Keywords
Immunohistochemistry
Score
Grading
Semiquantitative
Bone
Introduction
The main aim of any histopathological investigation is the identification of a pathological process, therefore special diagnostic features are necessary. Revealing of such features in bone tissue is concerned with several differences compared to other tissues. They start from the very beginning of the long chain of bone specimens obtaining and preparation: bone tissue needs prolonged fixation, often decalcification, special media infiltration and embedding, special equipment for cutting of the tissue specimens (heavy-duty microtomes, diamond circular or wire saws), and even grinding machines for section thinning and grinding [1],[2].
Unfortunately there is still no staining procedure invented, which is able to obtain specific information about all desired structures, such as osteoid, mineralized bone matrix, glycosaminoglycans and many others on one slide. To receive important information scientists choose the relevant staining method from a wide range of available ones nowadays. Many excellent reviews presented a variety of staining methods, and their pros and cons [1],[3]–[6]. Among of all methods, immunohistochemistry is a well-established tool, which is widely used to help identifying a wide spectrum of specific pathological processes and which is used in experimental research involving bone tissue. Besides descriptive analyses, multiparametric, semiquantitative scoring systems for evaluating different bone parameters represent an universal approach to include histopathologic information in biomedical research [7]–[9].
In general, one of the most important attribute of any scientific research is its language or nomenclature. The first widely accepted standardization of bone tissue nomenclature was made by Michael Parfitt in 1987 [10]. It was widely accepted and improved markedly the ability of bone researchers to communicate with each other and with nonspecialists, leading to a broader understanding and appreciation of bone research data. After 25 years these recommendations were revised and published in 2012 by David W Dempster and his coauthors [11].
Contrary to the general bone tissue nomenclature, there is still a huge gap in the standardization of IHC methods. IHC is a multistep procedure, and each step is vital. The importance of using standardized rules and environment on each stage of the method is stated in various articles and monographs [
12
]–[
25
]. According to existing conceptions, all variables implying on IHC methods are divided into 3 groups:
1)

Pre-analytical variables of IHC tests include Any and all steps in tissue processing, starting from tissue sample obtaining (prolonged ischemia, delayed fixation, etc.), type and length of fixation, decalcification, and elements of tissue handling (proper specimens orientation, careful notation of surgical margins, slicing into sections at 2 to 5 mm intervals, adequate naming, etc.). Unfortunately, pre-analytical variables cannot be controlled closely, unless you perform all the stages by your own or in certified laboratory [12],[15],[17],[18],[21]–[23].

2)

Analytical variables of IHC tests include slide thickness, choosing of antibody clones and their titration, choosing the detection systems and, of course, antigen retrieval (AR) procedure. Current IHC detection systems include peroxisae-anti-peroxidase, the avidin-biotin complex, the biotin-streptavidin amplified systems, tyramine amplification method, immuno–rolling circle amplification, and the polymer enzyme system [26],[27]. Antigen retrieval procedures include enzymatic digestion, acid treatment, alkaline hydrolysis, detergent treatment, using the urea solution, refixation with Zn-solution, freeze and thawing, freeze and drying, and of course heating [14],[27]–[29]. AR method should be carefully selected, because many antigens are very sensitive for selected approach, and AR may either enhance the result or completely destroy the target substance of interest [30].

3)

Post-analytical variables of IHC tests include interpretation and reporting of the results [31]. Despite all existing recommendations, post-analytical variables are the most frivolous part of many experiments using IHC diagnostics. Misinterpretation of positive and negative results, inappropriate morphological context, unclear scoring systems, and inadequate statistical analysis make it impossible to perceive any data and compare it to other scientific information.
The last step of IHC variables and particularly the scoring systems are the main topic of this review. The fundamental characteristics of a scoring system were suggested by Crissman et al., and included the following: (1) scoring system should be definable, (2) it should be reproducible, and (3) it should produce meaningful results [
32
]. Gibson-Corley et al. also described some key principles for an appropriate scoring system and data evaluation [
33
]:
"Masking" of the experimental material to reduce the subjectivity of valued scores;

a thorough "Examination" of all tissues/slides with creation of a context for scoring tissue lesions;

specifying "Lesion parameters", which then could be used as score categories;

using a clear "Scoring definitions" will improve understanding of presented data and increase repeatability of scoring system;

whenever possible, use "Interpretation Consistency" which imply that all the samples are scored by the same scientist in a reasonable period of time.
Semiquantitative scoring systems are widely used to convert subjective perception of IHC-marker expression by histopathologists into quantitative data, which is then used for statistical analyses and establishing of the conclusions. Without scoring system the description of received data can be provided only with subjective perception, expressed in such adjectives as "strong", "weak", "absent" with modifiers as "more" or "less", like Sojo et al. in evaluation of VEGF and BMP-2, −4 on lengthened rat femurs [34]. Of course, this approach is used by each pathologist while examining the slides, but without conversion into a scoring system – they are just subjective expressions of assessments of solely one pathologist. To reduce subjectivity it is recommended to have at least more than one observer in the study [35].
Most semiquantitative scoring systems usually include multiple parameters which are separately quantified on an ordinal scale and finally combined in a total score. Average scores of the different experimental groups can then be compared by non-parametric statistical tests [7]. The selection of the parameters should be based on the scientific hypothesis or question together with the morphological features of expression of IHC markers which are used in an experiment. The "golden standard" in IHC scoring is defined for the evaluation of only 3 markers so far: Her2/neu, estrogen (ER), and progesterone (PR) for which testing guidelines have been developed [36].
For many IHC markers scientists design an individual scoring system, which might be the best possible way to answers the particular scientific question. Lack of standard scoring systems for most IHC markers and particularly for bone tissue leads to the impossibility of the comparison of the results with other studies [37],[38].
The present review is aimed to provide the reader with an overview of the existing approaches in evaluation of IHC markers which can be used in bone tissue research and for either better understanding of existing scoring systems or developing a new one.
Review
Methods
Inclusion criteria for comprehensive literature search were a description of IHC results with or without scoring system. The priority was given for the scoring systems for IHC markers that can be used in bone tissue studies. Among such markers were Vascular Endothelial Growth Factor (VEGF), Bone Morphogenic Proteins (BMP), Osteocalcin (OCN), Osteopontin (OPN), and some others with developed scoring systems. Exemplary for VEGF and BMP the tendency in ongoing immunohistochemistry researches is shown in Figure
1
– their number is growing in geometric progression. During last 20 years (from January 1994 to July 2014) the number of articles mentioning VEGF was more than 50000. Bone Morphogenic Protein was mentioned in 9530 articles (Figure
2
).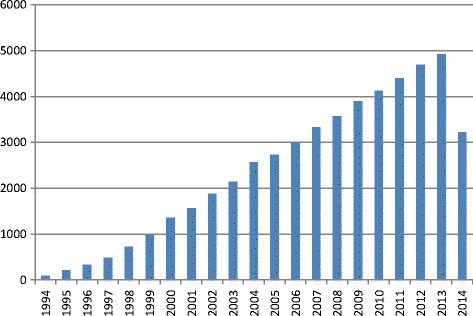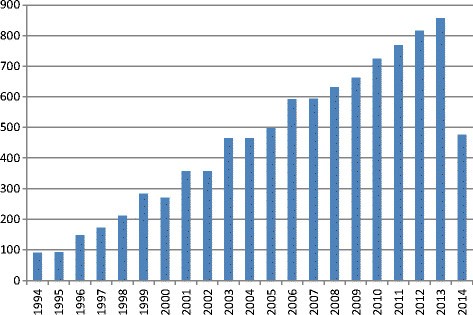 Using a comprehensive PubMED search with a combination of search words "immunohistochemistry" and "scoring system" 773 articles were identified. After further manual analysis 120 articles were selected for detailed evaluation of used approaches for interpretation and reporting of immunohistochemistry analysis results.
Results
A widely accepted scoring system for immunohistochemistry does not exist yet. The amount of IHC markers used in clinical and experimental research is constantly growing, and so do the amount of researches and data in the field. A closer manual analysis of the selected 120 articles allowed us to identify six major approaches to the interpretation and presentation of received results (Figure
3
).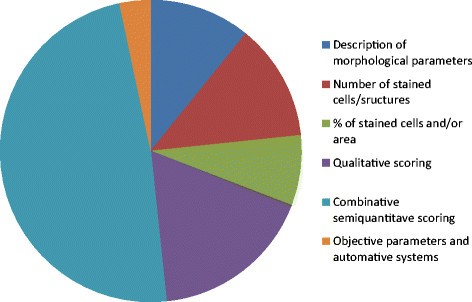 Conclusions
Summarized, the six listed approaches for evaluation, interpretation, and presentation of received experimental IHC information contain significantly different data. Which approach is chosen depends only on the researcher's opinion. Selection of an existing or developing of a new scoring system should be performed as early as possible, probably on such stages as developing the experimental design, purposes formationing and choosing tissue sampling parameters.
This review gives an overview on currently available approaches for evaluating and presenting data of bone immunohistochemistry, which may also be used in any other IHC field. In the authors opinion, a good scoring system is one of the key factors for any experiment. It helps to connect a specific scientific question with a clear presentation of achieved results. Properly selected or even newly developed scoring system will significantly increase the scientists productivity, save time and money.
Individual scoring systems for particular IHC marker may be the best possible way to answer the special scientific question, but lack of standard scoring systems for most IHC markers, and particularly for bone tissue, leads to the impossibility of the comparison of the results with other studies. Developing of standard multiparametric, semiquantitative IHC scoring systems for bone tissue studies should simplify and clarify the process of interpretation and reporting of received data.
This review hopefully fulfills the main purpose to present existing approaches to interpretation and presentation of IHC scoring methods and offers researchers assistance with the critical selection and application of scores or appropriate modifications for the individual scientific question. Maybe future investigations even develop new "gold standards" for additional IHC parameters, which would achieve a better comparability between different study results.
Abbreviations
ALP:

Alkaline phosphatase
AR:

Antigen retrieval
BMP:

Bone morphogenic protein
COL I:

Collagen type I
FGF:

Fibroblast growth factor
IHC:

Immunohistochemistry
IOD:

Integrated optical density
IRS:

Immunoreactive score
MC:

Manual cell counting
MVD:

Microvessel density
OCN:

Osteocalcin
OD:

Optical density
OMP:

Objective measurable parameters
OPN:

Osteopontoin
OPG:

Osteoprotegerin
OTN:

Osteonectin
PCNA:

Proliferating cell nuclear antigen
ROI:

Region of interest
VEGF:

Vascular endothelial growth factor
vWF:

Von Willebrand factor
Declarations
Acknowledgements
This work was provided within the collaborative research center 599 'Sustainable bioresorbable and permanent implants of metallic and ceramic materials', subproject R6, which was funded by the German Research Foundation (DFG). Thanks to Franziska Foth for her helpful comments.
Authors' Affiliations
(1)
Small Animal Clinic, University of Veterinary Medicine, Hannover, Germany
(2)
Department of Pathological Anatomy and Forensic Medicine, SE Dnipropetrovsk Medical Academy of Health Ministry of Ukraine, Dnipropetrovsk, Ukraine
Copyright
© Fedchenko and Reifenrath; licensee BioMed Central Ltd. 2014
This article is published under license to BioMed Central Ltd. This is an Open Access article distributed under the terms of the Creative Commons Attribution License (http://creativecommons.org/licenses/by/4.0), which permits unrestricted use, distribution, and reproduction in any medium, provided the original work is properly credited. The Creative Commons Public Domain Dedication waiver (http://creativecommons.org/publicdomain/zero/1.0/) applies to the data made available in this article, unless otherwise stated.