Heterogenous mismatch-repair status in colorectal cancer
Diagnostic Pathology
2014
9:126
Received: 12 April 2014
Accepted: 22 June 2014
Published: 26 June 2014
Abstract
Background
Immunohistochemical staining for mismatch repair proteins is efficient and widely used to identify mismatch repair defective tumors. The tumors typically show uniform and widespread loss of MMR protein staining. We identified and characterized colorectal cancers with alternative, heterogenous mismatch repair protein staining in order to delineate expression patterns and underlying mechanisms.
Methods
Heterogenous staining patterns that affected at least one of the mismatch repair proteins MLH1, PMS2, MSH2 and MSH6 were identified in 14 colorectal cancers. Based on alternative expression patterns macro-dissected and micro-dissected tumor areas were separately analyzed for microsatellite instability and MLH1 promoter methylation.
Results
Heterogenous retained/lost mismatch repair protein expression could be classified as intraglandular (within or in-between glandular formations), clonal (in whole glands or groups of glands) and compartmental (in larger tumor areas/compartments or in between different tumor blocks). These patterns coexisted in 9/14 tumors and in the majority of the tumors correlated with differences in microsatellite instability/MLH1 methylation status.
Conclusions
Heterogenous mismatch repair status can be demonstrated in colorectal cancer. Though rare, attention to this phenomenon is recommended since it corresponds to differences in mismatch repair status that are relevant for correct classification.
Keywords
Mismatch repairimmunohistochemistryheterogeneityMLH1MSH2MSH6PMS2
Background
Mismatch repair (MMR) defects characterize 2-4% of colorectal cancers linked to Lynch syndrome and 15% of sporadic colorectal cancers caused by epigenetic MLH1 promoter methylation. Various strategies can be used to preselect colorectal cancers for MMR protein testing, e.g. clinical guidelines for hereditary cancer, MMR prediction models that combine clinical and pathological information and potentially novel biomarker-based strategies [1–5].
Universal assessment of immunohistochemical MMR staining is increasingly applied in colorectal cancer diagnostics in order to identify cases suspected of Lynch syndrome for further molecular diagnostics and to obtain treatment-predictive information linked to somatic methylation of MLH1[6].
The monoclonal antibodies used for immunohistochemical MMR protein staining generally result in stable and consistent staining patterns with retained staining or loss of staining. Functional interaction between the MLH1/PMS2 and the MSH2/MSH6 proteins implies that the expression pattern of the heterodimerizing protein partner may be used to direct mutation analysis. Aberrant MMR function typically leads to complete loss of nuclear staining in the tumor cells, particularly when linked to MLH1 promoter hypermethylation that leads to complete gene silencing [7]. In Lynch syndrome, the multitude of disease-predisposing mutations may have variable effects on epitope expression, from complete loss to weak or retained expression for one or both heterodimerizing proteins [8, 9]. Variable epitope expression may also result in alternative expression patterns, e.g. cytoplasmic staining and perinuclear staining, which are typically present throughout the tumor [10]. MMR protein immunostainings are generally stable and relatively easy to interpret; though challenges and pitfalls have been reported with false positive as well as false negative interpretations [10–12]. Most commonly, these observations relate to technical artifacts caused by suboptimal fixation or paraffin-embedding, necrotic areas, sample storage, antibody specificity, clone selection or staining conditions [13, 14]. Also, neoadjuvant chemotherapy and radiotherapy may influence the results with a particular effect on MSH2/MSH6 staining [15, 16]. Heterogenous expression patterns with retained staining in the adenomatous part and loss of staining in a smaller, invasive part of the tumor have been reported but their relevance is uncertain [17]. We systematically collected colorectal cancers with heterogenous MMR protein staining patterns for detailed analysis with correlations e.g. to MSI status and MLH1 promoter methylation.
Results
Immunohistochemical staining using alternative MMR protein antibodies confirmed heterogenous MMR protein expression in all 14 tumors. Heterogenous expression affected MLH1/PMS2 in 3 tumors, PMS2 in 2 tumors, MSH2/MSH6 in 10 tumors (of which two also expressed heterogeneity for MLH1/PMS2) and MSH6 only in 1 tumor (in which one block also expressed heterogeneity for PMS2). Areas with alternative expression patterns were well demarcated and appeared in three distinct patterns: "intraglandular" (retained/lost staining within or in between glandular formations), "clonal" (retained/lost staining in whole glands or groups of glands) and "compartmental" (retained/lost staining in larger tumor areas/compartments leading to retained/lost staining in between different tumor blocks) (Figure
1
, Table
3
). Various heterogenous expression patterns co-existed in 9/14 tumors, most commonly as intraglandular and clonal heterogeneity (figure
1
c). The heterogenous staining patterns were present in 3-100% of the examined tumor area. In 4/14 cases, all tumor blocks showed heterogeneity, whereas the remaining tumors showed heterogeneity in a variable fraction of the tumor blocks (Table
3
).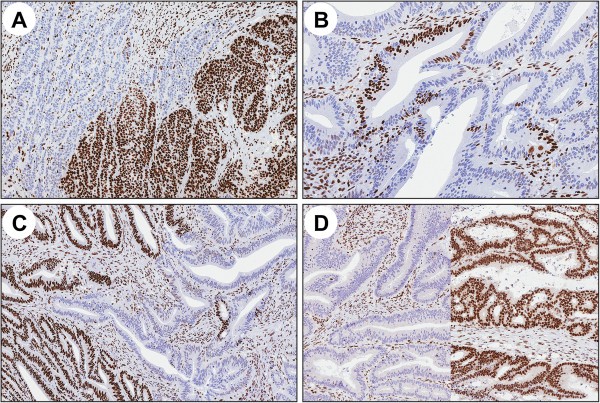 MSI was demonstrated in 13/14 tumors. Intra-tumor differences in MMR status, i.e.MSI
versus
MSS, in line with MMR protein staining expression was observed in 3 tumors (Table
3
; case 1, 2 and 9). Non-consistent, homogenous MSI status in tumors with heterogenous MMR protein expression was observed in 2 cases (Table
3
; cases 4 and 6).
MLH1
promoter methylation was demonstrated in all 7 cases with complete (non-heterogenic) loss of MLH1/PMS2. In 2 cases (Table
3
; cases 1 and 9) heterogenous MMR protein staining for MLH1/PMS2 correlated with heterogenous
MLH1
promoter methylation, i.e. tumor areas with retained MLH1 expression did not show MLH1 methylation, whereas areas with loss of MLH1 expression showed MLH1 methylation. Concordant immunostaining and methylation status suggest functional intratumoral heterogeneity (Figure
2
). DNA flow cytometric analysis was performed in one tumor (case 1) and demonstrated differences in DNA content within the heterogenous areas, which had DNA indices of 1.13 and 1.57, respectively (Figure
2
).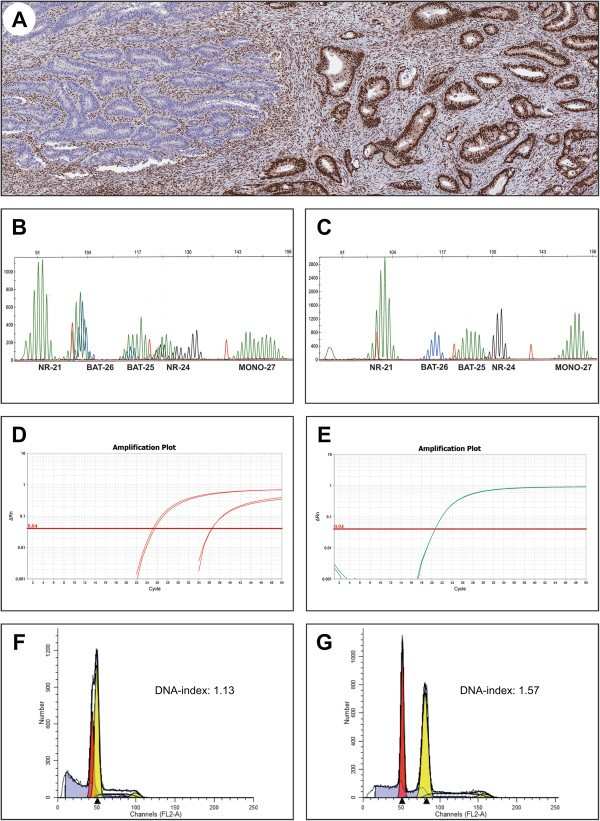 Discussion
Heterogeneous MMR protein expression is a rare phenomenon, but corresponds to differences in MMR status within the tumor and is therefore important to recognize to prevent false-positive or false-negative evaluations. We identified three distinct patterns of heterogeneity, i.e. intraglandular, clonal and compartmental heterogenous MMR protein expression. The different patterns co-existed within the same tumor and the extent of the tumor involved varied. In-depth analysis suggests that multiple causes may apply, e.g. variable epitope expression, expression related to variable differentiation, second hit mutations or methylation in selected tumor clones and possibly influence from factors linked to the tumor microenvironment such as hypoxia and oxidative stress [25].
Intraglandular and/or clonal heterogeneity throughout the tumor, which may be caused by variable epitope expression, was identified in 4 tumors (cases 4, 5, 15 and 16, Table 3). Homogenous loss of MLH1/PMS2 and heterogenous expression of MSH2/MSH6 was identified in 7 tumors that were consistently MSI and showed MLH1 promoter methylation (Table 3). This expression pattern has previously been observed and may relate either to a germline MSH2/MSH6 mutation that allows for partial epitope binding in the presence of somatic MLH1 methylation or to secondary MSH2/MSH6 inactivation [25–27]. Heterogenous MLH1 and/or PMS2 expression, suggestive of variable MLH1 methylation/second hit mutations was observed in 2 tumors (case 2 and 6, Table 3). Case 1 showed a more complex pattern of MMR protein expression and intra-tumor differences in MSI, MLH1 promoter methylation and DNA content, suggestive of a tumor composed of two distinct clones (case 1, Figure 2).
Variable MMR status did in some tumors correspond to variable differentiation, e.g. mucinous areas (cases 5 and 15), poor differentiation (cases 16 and 17) or adenomatous components (case 2, Figure
3
). Correlation between MSI status and expression also of other molecular markers has been described [
28
,
29
]. Different, through homogenous, MMR protein expression patterns in distinct tumor compartments were observed in a mucinous adenocarcinoma (case 9) with loss of MLH1/PMS2 expression, MSI and
MLH1
methylation in 1/7 tumor blocks that corresponded to an adenomatous tumor component (Figure
1
d). Sample mix was excluded through histologic review and penta-D marker fragment analysis (data not shown). Homogenous loss/reduced staining of MSH2/MSH6 throughout the tumor and additional loss of PMS2 in 7/10 tumor blocks was observed in a mucinous adenocarcinoma (case 5). This case most likely reflects how the mucinous tumor component progressed in another line than the non-mucinous tumor component. Though compartmental loss of MMR protein expression is rare, this observation motivates thorough evaluation of different tumor compartments, particularly when areas with variable expression are identified.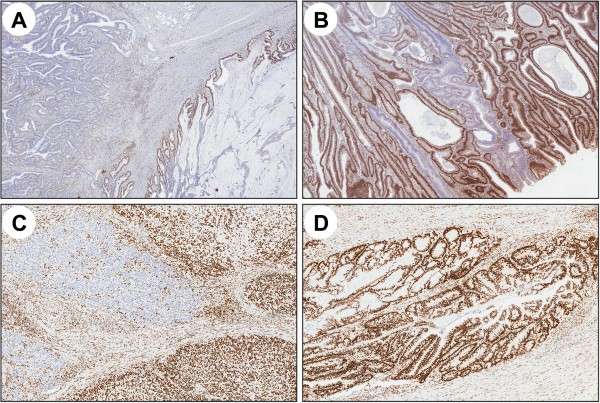 Limitations to our study include analysis based on surgical specimens though biopsy material may produce stainings of better technical quality [30–33]. At the same time use of biopsy material implies analysis of a restricted tumor area that may not capture areas with alternative expression. Also, information on MMR gene mutation status was not available in all cases. The 4 tumors from Lynch syndrome mutation carriers, however, expressed heterogeneity in between different tumor blocks, which showed homogenous as well as heterogenous loss in clonal and intraglandular patterns. Recognition of so-called "patchy" MMR protein staining has been reported and were also considered herein (Table 3). This phenomenon differs from the heterogenous staining patterns described herein in that it primarily relates to MSH6 stainings, neoadjuvant treatment [15, 16] or represents a weak or cytoplasmic staining rather than the distinct and well-demarcated areas of retained staining and loss of staining described herein.
Conclusions
Our study verifies heterogenous MMR status in a subset of colorectal cancer. Heterogenous MMR protein expression appears in three major forms, which frequently co-exist and correlate to differences in MMR status. We suggest that variable MMR protein staining patterns should be considered and when observed linked to extended analysis in order to ensure correct classification of MMR status.
Abbreviations
MMR:

Mismatch repair
MSI:

Microsatellite instability
MSI-H:

MSI-high
MSS:

Microsatellite stable.
Declarations
Acknowledgments
Financial support was granted from the Swedish Cancer Society, the Nilsson Cancer Foundation, the Kamprad Cancer Foundation and through an ALF grant from the Lund University Medical Faculty, Sweden.
Authors' Affiliations
(1)
Department of Oncology and Pathology, Institute of Clinical Sciences, Lund University, Lund, Sweden
(2)
Department of Pathology and Clinical Research Centre, University Hospital of Copenhagen, Hvidore, Denmark
(3)
Department of Pathology, Herlev Hospital, Herlev, Denmark
(4)
Department of Clinical Genetics, Vejle Hospital, Vejle, Denmark
Copyright
© Joost et al.; licensee BioMed Central Ltd. 2014
This article is published under license to BioMed Central Ltd. This is an Open Access article distributed under the terms of the Creative Commons Attribution License (http://creativecommons.org/licenses/by/4.0), which permits unrestricted use, distribution, and reproduction in any medium, provided the original work is properly credited. The Creative Commons Public Domain Dedication waiver (http://creativecommons.org/publicdomain/zero/1.0/) applies to the data made available in this article, unless otherwise stated.